Daniel's enemies plotted to get him in trouble, and it worked….they got him thrown into a den of hungry lions! But Daniel prayed and trusted his God, and even when Daniel could have died in the lion's den, God saved him – just like God saved Jesus from death on the cross. Let's dare to be like Daniel! Let's be brave and put our trust in the real King of Kings – JESUS!
---
LESSON BIBLE PASSAGE: Daniel 6
---
LESSON RESOURCE: Story Time with Pastor John
Sit back kids and hang out with John, one of our pastors at Summitview Church, as he shares the story of Daniel, well, actually, Jesus…and the Lions' Den!
---
MEMORY VERSE: Daniel 6:27
He delivers and rescues; he works signs and wonders in heaven and on earth, he who has saved Daniel from the power of the lions.

Daniel 6:27
---
CRAFT: Daniel and the Lions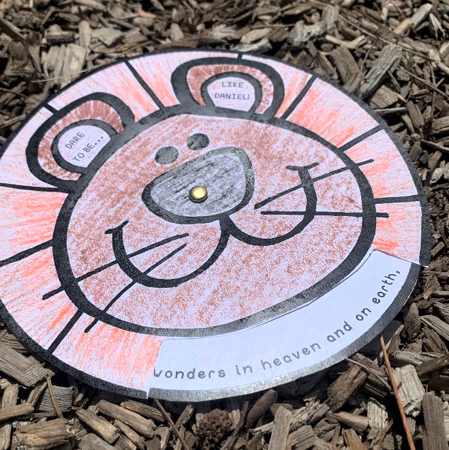 SUPPLY LIST:
Print out craft template (use white cardstock if available)
Coloring supplies
Kids scissors
Brad fastener
---
ACTIVITIES:
Daniel, Daniel, Lion: This game is played like "Duck, Duck, Goose," where everyone sits in the den (circle) while one person walks round them, tapping the others on the head and saying either, "Daniel" or "Lion." When the person says "Lion," the person tapped jumps up and chases the first person round the circle trying to catch them before he/she reaches the empty spot in the 'den.'