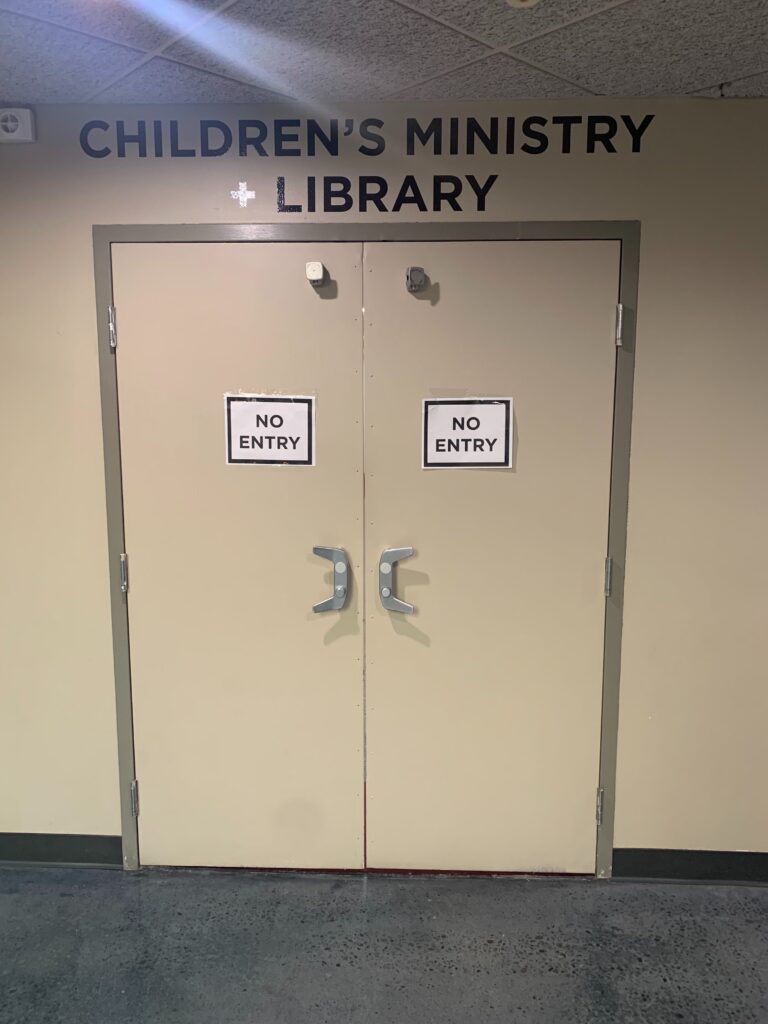 Those two simple words make me sad.
When I saw them they said to me: "Go away! You are not welcome here!" Certainly, this is not a message we would want communicated inside our church. After all, the church is an inviting place where all are welcome, including children.
But as seen in the picture, this is a recent photo of our Children's Ministry Hallway inside our church. From mid-March until September 27th, our Sunday School classes that our young ones have attended for years (in fact, since 2003 when we moved into the building), were cancelled.
Whether it has been a lack of experiencing our Sunday large gatherings together or being unable to see those we love the most in person, NO ENTRY describes much about the COVID pandemic that has been challenging for us all.
But there is HOPE! We worship a God who has the opposite and renewing message: You are welcome here… with Me.
Therefore welcome one another as Christ has welcomed you, for the glory of God.

Romans 15:7
This invitation is true for children. Jesus vividly illustrates this for his disciples when he rebukes them for attempting to turn away the seemingly inconvenient little ones.
Jesus said, "Let the little children come to me, and do not hinder them, for the kingdom of heaven belongs to such as these."

Matthew 19:14
"Do not hinder them."
That wonderful phrase, in contrast to the relational challenges of the pandemic, should resonate in each of our hearts. Our Savior invites each of us to come to Him with open arms, even the littlest and weakest among us.
We have a new opportunity! Sunday School has returned after months of NO ENTRY. We can, if we so choose, unite as a church to teach young hearts and minds about our amazing and welcoming God!
I believe there is no higher calling. I've personally experienced spiritual growth and change in my own heart – and seen it in the hearts of my children – as we've invested in teaching and helping in Sunday School. Our kids are worth it!
During the months of November through January, we will begin a new Summitview Kids Sunday School rotation. There will be four classes spanning ages 0 through 12.
Will you pray and consider investing in our children? Through your service, you will welcome the little children the way Jesus did so long ago.

Click here to sign up to serve in Sunday School >>  
Learn more about the vision of Summitview Kids >>

Chad Schneider
Summitview Kids Deacon
chad@summitview.com