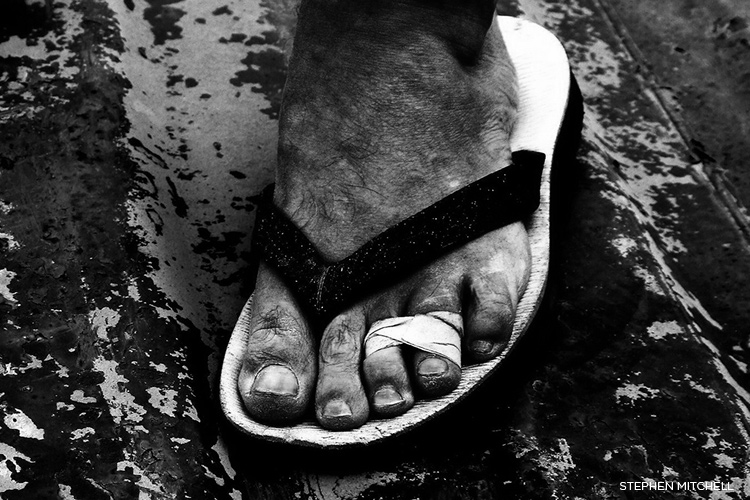 Travelers in first-century Israel probably wished they owned Carhartt boots. Their sandals left their feet exposed to dirt, mud, rotting food, animal excrement and blood from dead animals and humans. I've been in countries where the streets are much the same. In those places, only the brave wear open-toed sandals, if they're willing to deal with what they're stepping in. In John 13 at the Passover meal, Jesus and his disciples wore ratty sandals and they had walked miles to get to Jerusalem.
The solution to those stinky feet was a servant/slave. As guests entered a home, the slave would stoop down, wash the guest's feet of the foulness then dry them off. This allowed a tolerable abiding in homes. However, on the cusp of the Passover meal, with just the disciples and Jesus together, no one volunteered as they entered the house. Supper was prepared, everyone was ready to recline together and eat and tolerate the stink. No one served. And that was okay for them. But not for Jesus.
Here, Jesus, "knowing that the Father had given all things into his hands . . . rose from supper" (John 13:3-4). Knowing that the kingdom, authority, praise and honor were his — "all things" — Jesus chose to give. The Master served the slaves.
They weren't literally slaves in the way we normally think of them, but Jesus' interaction with Peter reveals a different slavery that he was bound in. As Jesus washes all of the disciples' feet (even Judas's), he gets to Peter and Peter denies him. I picture him drawing his feet up, looking aghast and saying, "Lord, do you wash my feet?" (John 13:6), and again, "You shall never wash my feet" (John 13:8). Peter figured washing his feet was too low a thing for Jesus to do for him. He probably figured he could take care of the problem just fine on his own, rather than let his Lord do this menial and disgusting task. Really, you don't have to do this, I can manage.
Jesus takes this chance to once again remind Peter of the slavery that he was still bound in — the slavery of refusing God's washing and choosing to try to wash himself. Jesus was emphatic: "If I do not wash you, you have no share with me" (John 13:8).
To be with Jesus, you must let him serve you. The fact is, you can't manage. You cannot cleanse yourself.
Freely receiving from God what we naturally are inclined to work for ourselves is salvation. It is salvation from proving ourselves as expert cleaner-uppers of ourselves when we are filthy on the inside. It is salvation from sin — the fundamental disposition of not wanting to trust God. It is salvation from our failed reclamation project of our lives. It produces a new kind of person — a person who can give to others and truly love, as Christ did.
Later in Peter's life, as a much older man who now understood this truth, he would recount this episode and exhort other believers to "clothe yourselves, all of you, with humility toward one another" (1 Peter 5:5). To clothe ourselves with humility is to sit in Peter's seat without squirming and let God do his work. Let God into the dirtiest, most foul places of our lives and receive his cleansing. In so doing, we are now freed from our self-righteous ways and are able to serve and love others. Only in receiving from Jesus can we give to others.

A new commandment I give to you, that you love one another: just as I have loved you, you also are to love one another. By this all people will know that you are my disciples, if you have love for one another. (John 13:34-35)