Tasting and seeing the goodness of God through art, pastries, flowers, coffee and music.
---
When we embrace the beauty of our design, when we recognize that God has made us to be unique expressions of himself, when we receive the gifts he has equipped us with and have the courage to pour them out, we worship. — Emily Freeman
Embracing our design and and the unique ways God has gifted each person was the theme of Summitview's Women's Coffee House on October 28. This theme manifested itself in artwork displayed around the room, in the singing of songs and in the stores shared around tables lit by the soft glow of candles.
If you weren't able to be the Coffee House, here are a few glimpses into the evening.
Paintings and pottery were displayed at a corner table, a feast for the eyes and a beautiful reminder that we were made by a God who delights in us and in our creativity. "But now, O Lord, you are our Father; we are the clay, and you are our potter, we are all the work of your hand" (Isaiah 64:8).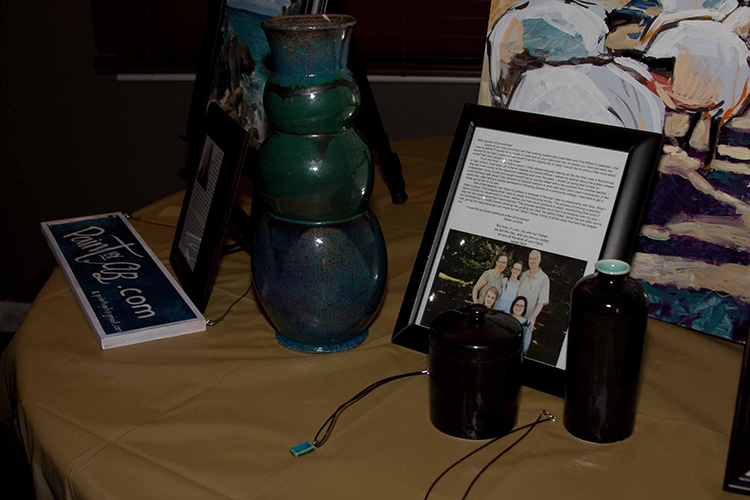 Another table was laden with a feast for the eyes and delight to the mouth. "Open your mouth and taste, open your eyes and see how good God is" (Psalm 34:8).
The evening began with the soft music of a piano. Women began moving from scattered conversations around the room to sit or stand at tables and join their voices in singing.
In my life be lifted high…
When I taste your goodness, I shall not want…
Wherever you go, we want to go…
You can have all this world, just give me Jesus…
The words of the final song were given extra beauty through Ellen McCurdy's lovely gift of sign. "Your praise will ever be on my lips."
When the song was done, Ellen told us how she cultivated her gift. In high school, she began learning sign language after a deaf girl in her youth group asked for help in understanding what was being sung and shared at those meetings. What began as a way to help someone has become an integral part of Ellen's life, both as a skill and as a way to move more deeply into worship. Ellen shared how this practice deeply enriches her relationship with God and has sustained her in dry and hard seasons of life. "So I will bless you as long as I live; in your name I will lift up my hands" (Psalm 63:4).
Jill Paulding reminded us that sometimes the most beautiful gifts only come after we have had to relinquish them, like a seed planted in a pile of dirt. "Truly, truly I say to you, unless a grain of wheat falls into the earth and dies, it remains alone; but if it dies, it bears much fruit" (John 12:24). What God brings forth from that seed may be imperfect, but it is also full of life and beauty and brings delight to those who see it.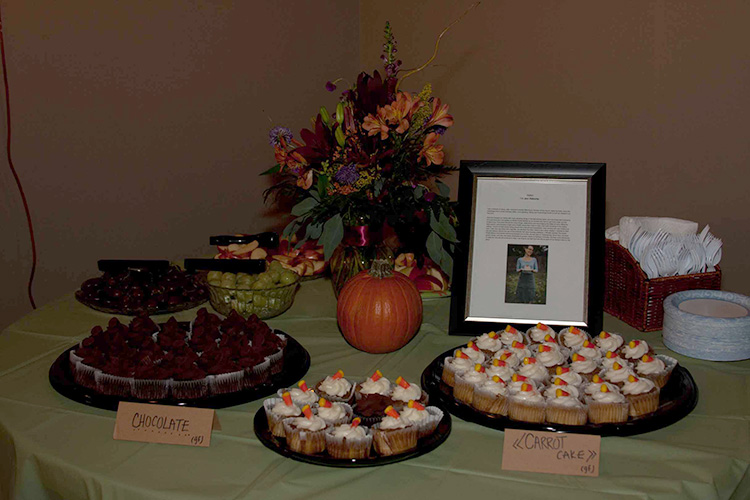 Heidi Jobman shared how her gift was born out of loneliness. Just after she moved to Fort Collins and before she'd had the time and opportunity to build deep friendships, her mother gave her a sewing machine. Heidi began experimenting with it, making items for her soon-to-be-born child. Over the years this has become a way for her to give beautiful and meaningful gifts to her friends—gifts that fit within the budget of a family of five on a single income, and gifts that express the creativity that God has put within her. "She seeks wool and flax, and works with willing hands" (Proverbs 31:13).
Joan Allmendinger rounded out the evening sharing about the CSU Moms prayer group that she helped start a few years back. This group of ladies sets up a table on the CSU plaza, shares some tasty treats and offers to pray with students. This simple offering does not require a particular talent or skill, but rather a boldness of heart and a willingness to care for strangers through the offering of the gift of prayer. "I urge that supplications, prayers, intercessions and thanksgivings be made for all people . . ." (I Timothy 2:1).
In between these four women sharing, the focus of the evening was turned back to the women at the tables. The women were asked to share how God had developed specific gifts/talents in their lives that connect them to God and bless others in meaningful ways. As each woman shared, it opened up opportunities to learn new things about one another and to see how beautifully God has designed each individual.
The evening was brought to a conclusion with this quote from Emily Freeman's book A Million Little Ways:
As the poetry of God, all our hands make a different kind of art and we create with our successes and failures, our talents and our shortcomings, our instruments and our yard rakes, our numbers and our calloused hands. Nothing is off limits. . . . God is the Artist and he has made us. We are his poem and we will make art.