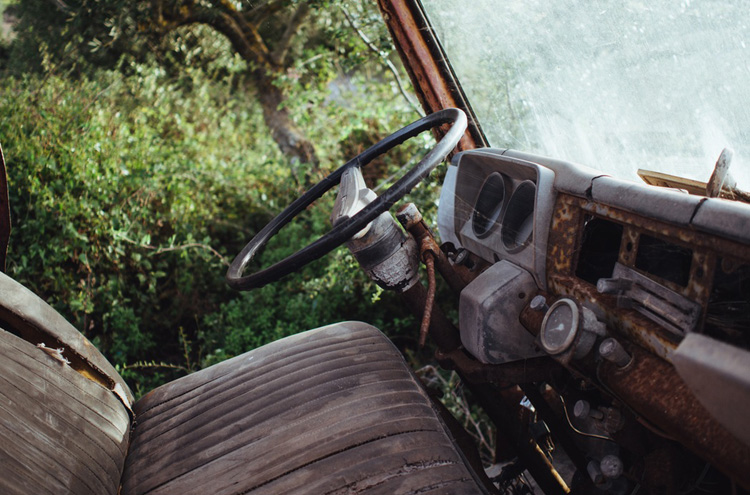 It was time to turn in my $500 deposit for the Nepal mission trip this summer. Although my mom was concerned for my safety, she gave me her blessing to go on the trip. After years of praying about going overseas, I could not believe I would finally be a part of what God is doing Nepal!
And then the engine in my Honda Accord seized up.
After countless phone calls and many, many tears, I found out I had been cheated by the dealer and the mechanic who checked the car before I purchased it last summer. I was devastated. I couldn't afford a new engine and the mission trip to Nepal.
I had a few emotionally charged conversations with my mom about finances, as she was the co-signer on my car. Her words were laced with worry and wisdom. She could not see a solution other than increasing my debt and making very unwise financial decisions, but I wasn't ready to give up my dream of going to Nepal. She was right: God does not literally open up heaven to shower us with "big ones."
But that is exactly what he did.
First, my mom was so heartbroken about the rotten scheme between the dealership and the mechanic that she wrote a letter to the dealer and asked them to at least apologize. I knew they would not respond to her letter, but her defense made me feel loved. Then I received a call from the dealer a few days later. He asked about my situation and offered to give me $1,000 toward a new engine! I was absolutely speechless. Not only that, but a mechanic friend of mine offered to install the new engine for free. Instead of needing $3,500 for an engine, I now only needed $1,000. God sparked a faith flame in my unbelieving heart and, suddenly, Nepal was closer than I ever thought possible.
I sought counsel from a few trusted people at Summitview, and we realized that the ideal solution would be one that honored my mom while still allowing me to go to Nepal. I worked hard to start fundraising. I even filed my taxes in the beginning of February! The online fundraising returned $220 within a few weeks, but I still needed approximately $1,780 for Nepal and $1,000 for an engine.
My tax return completely paid off what I needed for the engine. Then I found out that the cost of the plane ticket to Nepal was a few hundred dollars less than expected. Plus, I received an incredibly generous anonymous donation. To top it all off, Summitview paid for half of my plane ticket because I had offered to help lead the high school girls going on the trip.
Within a month, I went from owing roughly $5,500 for an engine and the Nepal trip, to having everything completely paid off.
When my engine seized up, I was devastated, angry, defensive and faithless. I did not deserve the kindness and grace God showered on me these past few months. But that's just it — we never do.
God does provide for us, but not merely in the tangible ways that we can see or physically experience. He provides for us through leading our hearts, comforting our souls and disciplining our flesh. God gives us various trials to grow us closer to him — because he is in the business of changing us, not just forgiving us! And he provided for us when Jesus died on the cross. Through this finished sacrifice, we have access to a limitless, powerful Father who wants a relationship with us — not just so we can always get what we want. He knows that nothing he gives us is better than himself.
I read so many verses during this trial that spoke to my heart. If I were to include them in this post, I would exceed my allotted word count (I think I already have, ha). But I will leave you with this verse, which I read a week after my engine seized: "Trust in Him at all times, O people; pour out your heart before Him; God is a refuge for us" (Psalm 62:8).
This verse does not say, "Only pour out your heart if it is pure and good and right." This verse says to pour your heart out to him at all times, especially when you need a refuge! When your engine seizes up and you cry (a lot, did I mention that?), and you are devastated and defensive and faithless, pour it all out on him. He wants a relationship with you. His response will always be in your absolute best interest — to lead you, comfort you, grow you, or discipline you.
Remember: at all times, "Look Up."