Summitview has a long history of missions involvement in Nepal. Our connections with church leaders in the Kathmandu area began in 2007, and since 2010, we have fully funded the operation of the Godawari Children's Home just outside Kathmandu. We sent aid in the aftermath of the earthquake in 2015. And earlier this year, by God's leading, we entered the fight to bring justice to trafficked women in Nepal.
Andrea Baker, Vanessa Felhauer, Sarah Keck, Nicolle Kuester, Sarah Lemons and Amy Mihaly spent two weeks in Nepal this spring connecting with anti-trafficking organizations and ministering in villages that have been heavily targeted by traffickers.
I met with four of them—Andrea, Vanessa and the two Sarahs—back in April to talk about their trip. Due to a handful of factors, I wasn't able to finish editing the trailer (below) until only a few weeks ago. And now their full story is finally being told. This delay has been frustrating, but there's something poetic about running this interview during our sermon series on Esther. There's no perfect parallel here—Esther compromised her values and faith tradition and "sold" herself into a sexually exploitative situation. The women who are trafficked in Nepal are often sold by their parents in return for basic needs. These are very different worlds.
But the book of Esther is about a woman acting heroically and standing for others who had no agency to stand for themselves. These six Summitview women took (and continue to take) heroic steps of faith to seek justice for those who have no recourse to seek that justice on their own. Andrea Baker, Vanessa Felhauer, Sarah Keck, Nicolle Kuester, Sarah Lemons and Amy Mihaly would probably balk at being cast in some sort of "hero" light, such is their humility and their desire to see God the Father receive the full glory through their work. Their hearts are burdened for these victims and the Nepali people, and their actions are worthy signposts that direct our eyes to a God who wants his people to understand justice completely (Proverbs 28:5).
The interview that follows has been edited for readability.
Trevor: How did this trip come to be? What's the story?
Vanessa: Several years ago, Pastor Mitch was talking about the Children's Home in Nepal; about how the Children's Home was keeping kids from being trafficked and he gave some statistics—I think he said something like 1,200 girls are trafficked out of Nepal into India every year. And for both Andrea and I, that just really burdened our hearts. As we got to know each other, we started thinking, "Why don't we do something? We have missionaries in Nepal right now through Great Commission Churches, and Summitview has been involved with the Children's Home and we have some other connections in Nepal through other churches here in Fort Collins." And we just started dreaming and thinking. We've got all these connections, can we do more? Can we maybe start a home that's focused on rescuing girls or restoration after they've been rescued?
So, last summer we came together, and our mission was to see how we as a church can be more involved in anti-trafficking efforts both in Nepal and here in Fort Collins. So that was part of our 16-day trip to Nepal—getting on the ground and making some connections and finding out what's even doable.
Trevor: What were some of the ministries and organizations that you worked with that were already on the ground in Nepal?
Andrea: We connected with an organization called Five14. I believe the name is based off Matthew 5:14, which talks about being a shining city on a hill. And their goal is providing jobs for Nepali people and spreading the light of the gospel there. They are really making progress in ending human trafficking in Nepal.
Vanessa: Because of our connection with Five14, we were able to connect with a group called Mukti, which is a group of organizations that are all working against human trafficking in Nepal, and they all come together once a week for prayer. We got to attend one of their prayer meetings and we met some other really cool people and started some connections. And we all got to talk with a counselor with International Justice Mission and then visited her church, and that was another really good connection we made while we were there.
Trevor: Andrea, how did your personal story help you connect with the women in Nepal?
Andrea: Growing up as a young girl in the United States, I learned that my value came from what I could produce, my physical appearance—things like that. When I came to college, I started attending Summitview and the Rock. I learned that, actually, my value came from God and I'm his daughter. So from there, God has really used value as a theme in my life.
When we were in Nepal, I started noticing some of the women seemed really shy. They wouldn't tell us their accomplishments. Some wouldn't tell us their names. They would cover their faces while laughing or eating and they were quiet unless spoken to. Part of me was getting really frustrated, like, why were they so shy? I'm a woman, I'm safe, you can talk to me. I actually asked a counselor we met at the Mukti prayer meeting if there was any reason why Nepali women seemed to be so shy. She explained to me that they are told all throughout their lives that they're not valuable, that their parents are disappointed when they're born, that they'd rather have a boy. Their parents don't invest in their education or their health as much because their daughter is just going to run off and get married. It's just a very patriarchal culture. My heart literally broke for the women we were meeting, and I realized that the issue of value is so much deeper and complicated in Nepal. It's devastating.
Trevor: What is trafficking's role in this dynamic?
Andrea: It's huge. Because women aren't educated as much, they might not get jobs (or good jobs) or they might be abandoned by their families. We walked by a lot signs for girls hostels in Kathmandu. The government is steering away from children's homes because some of them are corrupt, or it's just not good for children to be away from their parents. There's a lot of reasons why they are steering away from children's homes.
But this lack of value definitely is related to poverty. Trafficking in Nepal is definitely triggered by or caused by poverty. For example, one of the villages we went to—a very poor village—the people there often couldn't afford the tin roofs they need for their homes during the monsoon season. Tin roofs are very valuable. Traffickers knew that. They would bring in these tin roofs and the families would sell their daughters, maybe not knowing what's going to happen to them. They might be promised that she'll have a better life, a job, food, a warm bed to sleep in. So the families would sell their daughters. Over time they'd realize they would never see them again. But it was a tin roof or, yeah—shelter or no shelter.
Trevor: It's hard to get your head around this. What was life like in this village?
Vanessa: You could see there was a generation of girls missing. It used to be the heaviest trafficked area in Nepal, and this organization we were with, Five14, came in. They didn't say they were Christians, they didn't say they were anti-trafficking—they just came in with business. They told the village that they were going to help their economy. And now it's a zero-trafficking zone. The village leader has declared it that. They are starting to see some secret Christians (it is still kind of taboo to come out as a Christian in that area). And all they did was come in as business people, so business and education are what will stop trafficking in Nepal.
Trevor: What kind of business?
Vanessa: So, in this particular village what they do is trekking—basically adventure tourism. And that's pretty big in some of these areas. There were other business models, as well. We met someone who was doing a clothing business, and you can buy their stuff online and it's all Fair Trade. Fair Trade is a big thing, as well. They showed us where the Fair Trade stores were so we could shop there.
Trevor: This seems as if it was the central experience of your trip. Can you tell us a little bit about what it was like to get there, how long you were there, some of the conditions?
Sarah K: I don't know if I would paint it in a good light!
Sarah L: We got well acquainted with the squatty potties!
Sarah K: That's funny! So the village we went to was about 100 kilometers away from Kathmandu.
Vanessa: They said it would be an easy hike.
Sarah K: Yeah, and they said it would be an easy hike. We took a five-and-a-half hour bus ride on this little one-lane highway. It was a little frightening at times. We were on the edge of a cliff passing another bus. And then the last six miles or so it was like rock crawling in the bus, which was pretty exciting and a little scary. And then from there we had a three-and-a-half hour hike to the village, and I would say it was similar to hiking in Colorado but a little more warm and humid. We had to cross a scary Shrek bridge, where it was like wires and nailed-on boards, and some of the boards were missing, some of the nails were missing, so you didn't want to look down. But you had to to make sure you weren't going to fall into the canyon. They called this "off the beaten path," so it definitely lived up to its name.
The village had maybe 80 people living there—small, very remote. They had one school in this area, and the kids would come from all the surrounding villages. There were probably 100 kids there, and the ages ranged from 5 to about 10 or 11. They only went through the fifth grade at the school because they didn't have the resources or enough teachers or enough kids. Again, there's this lack of education.
We experienced village life. We got to live with them a couple days, got to eat their food and we got to play with the kids and see what it's like to live in a remote village in Nepal. We'd go play in the river when we felt dirty. It was probably one of the biggest highlights in the sense that I've never done anything like that before, and for all of us it was a huge experience for us to see the villages where people were being trafficked from. Because when you see Kathmandu, it's a huge city, and when you go to these villages and they live on subsistence farming, you start to understand the poverty, you start to understand how the income works, you start to understand how kids are being trafficked. If the water buffalo dies, it's the family's main source of milk. We understood why trafficking is a problem and what it looks like to see a village trying to break free from that. They told us they hadn't had a wedding in that village—no one could remember how long it had been—but they just had one and it was a huge celebration for that village.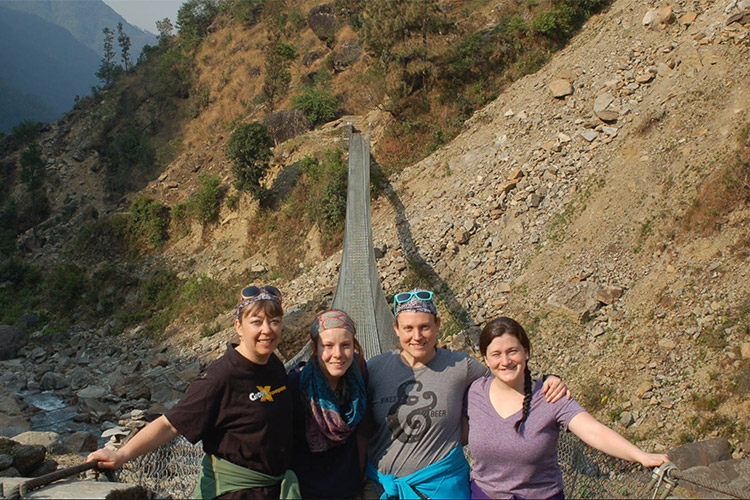 Trevor: Does most of the trafficking in Nepal happen in cities or in villages like the one you visited?
Sarah K: The majority of it comes from villages—that's what we understood from Five14 and the other organizations we were working with. Most of it's in remote villages.
Trevor: That shatters the stereotype about these big cities being where most of this business happens but, like you were saying, the actual trafficking is in the middle of nowhere.
Sarah K: And even with the resources our team had, it took a long time to get there. Imagine having no money: It would be very difficult it get back to your village even if you escaped from traffickers. And the kids that are undereducated, they can't read, so they don't know where they are.
Vanessa: And most of them are trafficked across the border into India. Not a lot of them are staying in Kathmandu.
Trevor: Why India?
Vanessa: Because that's where a lot of the red-light-district tourism stuff is happening.
Andrea: And India has all the money. The Indian government is very manipulative with Nepal. They consider Nepal their backyard, and so Nepal struggles to be financially independent. Nepal is very dependent on India for everything. For example, there was a fuel embargo for six months that ended back in February. India stopped sending fuel to Nepal. The Indian government does have a huge influence on Nepal and its resources and its finances. India disregards Nepal and they take the girls because they know Nepal is poor.
Trevor: How will your time in Nepal impact the anti-trafficking/anti-porn work you are doing here locally?
Sarah L: I think we definitely saw how the porn industry can play into trafficking in multiple ways. There is a big difference between trafficking in the States and trafficking in Nepal. What it comes down to is that it all stems from not valuing life how God does. Having our hearts stirred by the things we experienced in Nepal will definitely change how we look at life here. I know for sure it has changed how I look at a lot of things here, and we really hope that more people will join us in this effort because we can't do it alone. And it's really discouraging to not have more people on board with us.
Trevor: How can people help?
Vanessa: We would love to have families and particularly men join us in this work, because so much of the anti-trafficking movement is filled by women and that's not who's going to stop it. We really need some men to step up and be a part of what we are doing. You don't have to want to go to Nepal and move there long-term to be a part of this work. In fact, a lot of you came to our Rewire Art Show a few months ago. We had a great turnout for that. And the point of that was, how can we affect the adult-entertainment industry here in Fort Collins? We're doing work in both places with the same theme and we'd love to have other people join in.
Andrea: Men have a huge role. Men have a huge role in ending human trafficking. It's a men's issue, and we need to see men join the cause to step up against pornography, to speak value. Men's strength could really empower and help women.
For example, Pat Sokoll and Rob Moore from Beggars' Gate were part of our group in Nepal, and they were only there to support us. Just to help us feel safe while we were in Nepal. Rob would lead our group, Pat would be in the back and follow along. Because they were there, we felt physically safe and didn't have to worry about that. So all of a sudden we were bringing faith. We were like, "Let's go do this, let's go do this," and we really met God, we saw God work in huge ways. Amazing things happened. I can see that God helped make all of that happen because of the presence of these men who helped us feel safe.
Trevor: How controversial is the statement that trafficking is a men's issue? Is that something you're going to hear outside church-based anti-trafficking groups?
Vanessa: I think so. The Rewire Art show that we did is actually part of a movement here in Fort Collins, and a lot of men are involved with it. There's a lot of male leadership. There's actually a book that one of the counselors wrote. It's called End: Engaging Men to End Trafficking. But I think that that has to become more and more prevalent. You've got all these women running around doing these things. First of all, if you don't end the demand, trafficking is never going to end, so there's that aspect of it. But what's needed is for the male gender to bring their strength to the table in any given situation.
Trevor: What does your involvement in Nepal look like going forward?
Vanessa: That's a good question, Trevor! Our goal had been to start a second children's home within the next four years. And what we found out early in the trip was that's not even possible given the new government. So we're trying to reevaluate and look at different business and education models and see where we can best be involved, given our strengths and talents and what we're passionate about. We're just praying, "God, what should we be involved with?"
Trevor: How can Summitviewers and the church in Fort Collins be praying for your team, your work and for Nepal?
Sarah L: We'd really like to have people that we'd be really effective in our city and around the world. We are all considering what God has for us in the future, what he'll do with our team, what he'll do with us individually. Also, you could pray for our connections in Nepal, that they would become stronger and that we could also make connections here in Fort Collins and surrounding cities. And then lastly, if people could pray for our encouragement—this is a really dark topic, a dark subject. It can get discouraging simply doing research about trafficking and remembering the faces of people who have been trafficked. There's a huge spiritual battle, and we'd really like your encouragement.