Thirty-eight students, 10 weeks, one mission.
---
This summer, the Rock is staying home for its Leadership Training (LT) program.
LTs have proven to be a powerful means of grace in the lives of college students over the years. This year's program runs from May 21 through July 29. Ten intentional weeks surrounded by a few dozen other brothers and sisters in Christ are bound to change a life or two. These students are the next generation of leaders in the church, and LTs provide a tremendous opportunity to go deep into the implications of the gospel, the blessings and challenge of leadership and the value of the local church.
The Fort Collins group of students is being joined by students and student leaders from Aimes, Iowa, bringing the LT participant total to 38.
The Rock has rich history of LTs (the program used to be called Infusion) — New Orleans, El Paso, Lincoln, Los Angeles. This summer, the LT's focus will be on developing ministry and spiritual habits that revolve around the primacy of Jesus.
I emailed with John Larsen, one of the pastors at Summitview and the Rock's director, about his hopes and prayers for the students this summer. Our conversation has been edited for readability.
Trevor: You were in Los Angeles last summer and Lincoln, Neb., two summers before that. That's a pretty diverse set of locations. What will you miss about not being in a new locale? What are you looking forward to with having LT in Fort Collins?
John: The advantage to being away from home is that the newness opens up the opportunity for creating new expectations, relationships and rhythms. So we'll miss the feeling of every participant being 100 percent committed to the summer program, simply because being around the familiar is oftentimes distracting. That said, hosting LT in our own backyard provides the opportunity for more students to be involved who would not have been able to attend an out-of-town LT due to local schooling or a job.
Trevor: In Lincoln, there is Dorothy Lynch dressing. In L.A., there's street tacos. What's your favorite local culinary expression in Fort Collins? What are the LTers' favorites?
John: After our first meeting, I believe many students went out for some cake at Starry Night Cafe! Krazy Karls is also eaten often.
Trevor: Who all is participating in this year's LT?
John: We have 38 LT participants this year, including a handful of students from Stonebrook Community Church in Ames, Iowa. Leading the Iowa Five is the Anderson family—Luke and Holly with their four children.
Trevor: What will the LT look like? What's on the agenda? What will the students be experiencing?
John: Here is our weekly schedule.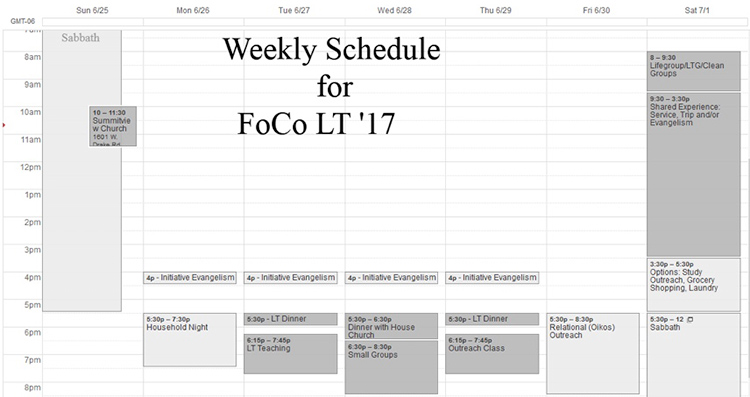 Students will be active in gospel proclamation and equipping (memorizing Scripture regarding the gospel message), growing in knowing Jesus through two Mark teachings per week, serving together in community and having shared partnership experiences, like a trip to the Great Commission Churches Campus Workers Roundtable in Des Moines and DTC: PROCLAIM, a regional summer conference for high schoolers.
Trevor: What's the over-arching theme or objective? What one thing do you want students to have in their hands or in their hearts come August?
John: Every college student is desiring to experience a meaningful summer. I believe that the most meaningful life is one lived knowing Jesus Christ. Our goal aligns with the theme of our sermon series on the Gospel of Mark. I would love the students to see measurable growth this summer in creating life-long patterns of putting Jesus at the center, relating and placing all aspects of life in proper orbit around Jesus. In the goal of knowing Jesus Christ more, I desire for students to have discovered habits that lead toward a sustained pursuit of Jesus for the rest of their lives. In addition to gospel-centered Bible reading, prayer and evangelism, they will also be trained in how to use the Sabbath to recharge and in the importance of taking care of their bodies through sleep, proper diet and exercise..
Trevor: How do you hope this LT bears fruit come the fall semester? Or, in other words, what is the long-term result of this LT for the Rock's ministry and presence at CSU?
John: Summer is oftentimes when we see new leaders raised up. Our hope is that this summer's experience will better position more students to be leaders on campus—knowing Jesus and making him known to others in their unique relational spheres on campus. Over the next few weeks, we'll be on campus to meet this year's incoming freshmen. Our hope is that many would join our church when they move to Fort Collins this August!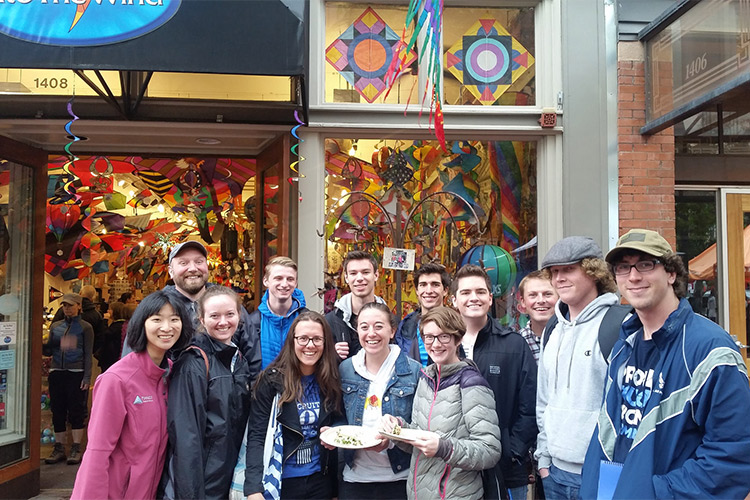 Trevor: How can Summitviewers support the LT students this summer?
John: Already, so many dear saints at Summitview have stepped up to serve. The Parkers, Saunders, Martines and Fawaz family are all hosting participants from Iowa! It is essential for these young believers to make connections with older believers in the church, as Paul commands in Titus 2. So, as the Lord provides you with relationship and time, invite a student over!
Trevor: How do LTs (including this one) prepare students for the "real world," even (or especially) if they don't find a calling in paid ministry after college?
John: As mentioned above, our goal is to equip students for a life of knowing Jesus, and relating every moment and activity back to him. The large majority of the students will be working jobs five years from now.
Trevor: What's one strength in this summer's crop of students that will serve them well?
John: I am SO proud of this next wave of leaders. They have been well served and positioned by the previous generation of Rock leaders, like Bree Hottinger, Emily Carr, Ross Bryant and Stephen Molden. They are full of zeal and they love living life together!