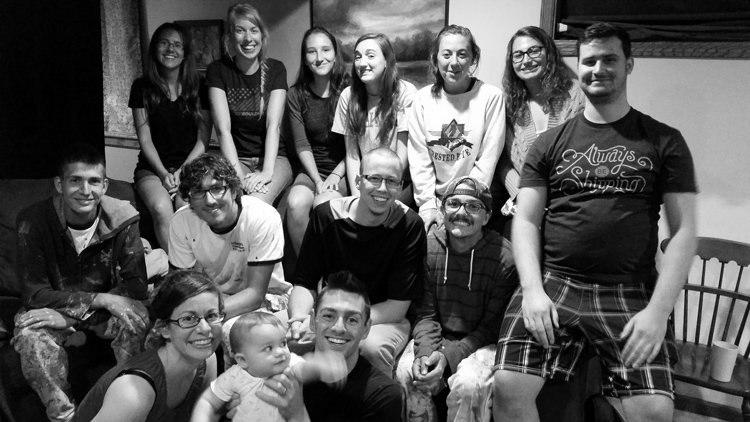 Just over a week ago, a group of Rockers — Adrianja Cheadle, Alayna Mihaly, John Richard, Julie Carr, Noah Albrecht, Rachel Knoshaug, Ross Bryant, Stephen Molden — and John Larsen and his family returned from their two-month Leadership Training (LT) in Lincoln, Neb. From May 31 to July 31, they served alongside folks from the campus ministries of six other Great Commission Churches.
Now that they're back in a humidity-free climate, a few of them took the time to share some thoughts about their summer in Lincoln. Be thankful for the work God did in and through them. Their responses have been edited for readability.

What were ways that the LT helped you grow as a disciple?

Ross Bryant: I think I grew as a disciple in my fear of the Lord. John Meyer's messages helped with this. In addition, I grew in being inspired with a practical vision of how to be like Jesus. This happened simply by being around believers I'm not normally around, and something about their lives really made an impression upon me. In particular, I'm thinking of Kevin Jacobson and his intentional investment in the men God has given him to disciple. He spends time with them, contacts them everyday to ask how their time in the Word is going, how prayer is going and what struggles are in their life. I understand how to make disciples better because of him. I am also thinking of John Hastings and how he is full of joy. He leads boldly, doesn't back down on his convictions — but he is so joyful. He chooses joy and delights easily in other's joy. In addition, the amount of free time led me to grow in my relationship with God and time in the Word.

Julie Carr: I have learned a lot about living in my identity of Christ. When God looks at me he sees Jesus' perfect life. I have been learning how to abide in Christ each day. I have always seen it as walking with Christ but then I start to do things on my own power. In John 15:5, it says abide in Christ. It is all about God and God working in me.

Adrianja Cheadle: This LT changed the way I think about myself and God. The truths that were shared broke down the lies in my life and destroyed strongholds. I am now sure of who I am in Christ and who God is, and this will help me reach out to others and share the good news. Also, many of the activities pushed me out of my comfort zone and required me to wholly trust in God to get me through.

Rachel Knoshaug: It reminded me that I need community and Jesus more than I ever thought. Being around people who are living for Christ with their whole lives spurred me on in my faith, and the teachings brought solid convictions that I'm hoping will help me to be more Christ-like, as well!

Stephen Molden: I learned about how much stuff I was trying to accomplish through my flesh. I don't think I really relied on the Spirit much in the past to live the life that God wants me to live. God used the LT to expose this to me and gave great verses, applications and examples on how to walk in the Spirit.

Which elements or events were particularly helpful?

Julie: The teachings were all really good and I really enjoyed our Wednesday nights [small groups]. It was good to be able to discuss what we had been learning and to hangout and get to know the people from our group better. The service projects were also fun because I enjoy working alongside my brothers and sisters — and because it got me up in the morning on Saturdays. I also liked eating meals together. I feel like it helped with unity a lot and gave us chances to talk to other people.

Rachel: Monday and Tuesday night teachings were always packed with good stuff. I also really enjoyed the Sunday morning quiet times and Wednesday night small group.

John Richard: I found the sermons to be very convicting. It was exciting to hear what all these pastors were passionate about.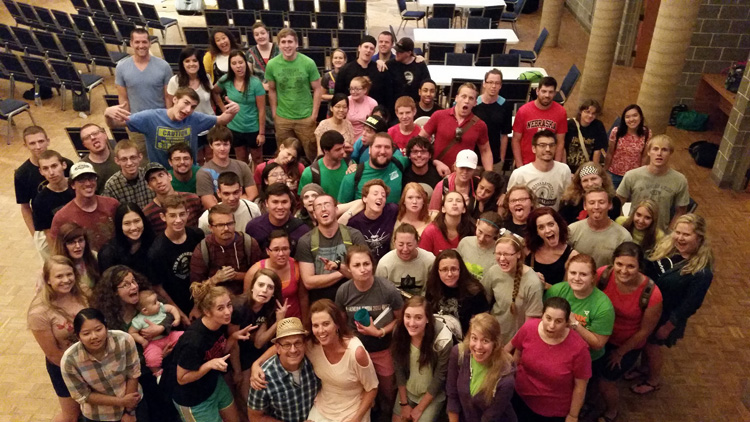 What's a memory you won't forget?

Ross: Driving out early for a job interview with my man Stephen Molden before the LT even started. We shared some of our deepest life struggles, tried to freestyle (I tried, he shredded it), learned some of the world's worst jokes and got a job out of the trip. Twenty hours, 14 of them driving, lots of laughter, exhaustion and fellowship.

Julie: There are so many!
Sitting around in the Holdrege house singing together both worship songs and having fun singing things like "Wagon Wheel" and "Blank Space." We were all together having fun and praising God. Lots of laughs and faith-filled hearts. I feel like those moments sum up most of the summer.

Adrianja: I will never forget when I was encouraged to start a cold-turkey conversation with a girl at a coffee shop. I just took a leap of faith. It ended up being a great conversation where I got to share my testimony and who God is to me. This moment led me to a moment where God hammered home his truth into my life [and that truth] destroyed the lies inside of me and set me free. I have never known such happiness and genuine joy and lightness. "Who the Son sets free is free indeed."

Rachel: Trying mberry!

Stephen: I won't forget about the night that everyone ate lemons and drank vinegar just to prank me into thinking that mberry actually works.

John: The all night prayer. It was tough, especially after a 12 hour work day, but I'm glad we started the summer with it.

Would you recommend that other college students attend an LT/Infusion in the future? Why?

Ross: It brought some of my biggest struggles in life to the forefront so I couldn't ignore them anymore. And eventually God started to help me through them. This summer was like a greenhouse for spiritual growth.

Julie: I learned so much about myself and God. You really get a chance to be with other believers that are serious about their faith and run after God with them. It isn't always easy, which gives you opportunities to trust God and apply faith. You make so many memories and friendships. This life is the only time you have to apply faith; faith won't be needed in heaven. It really gets you on fire for what God is doing in your life and the lives of those around you.

Adrianja: It is truly life-changing and life-giving. The summer is a lot of hard work; however, it also breathes life into you when you live according to how God wants you to live. Living in community and on mission teaches you a lot about who God is and what it means to be a disciple. You grow in trust as God brings you through hard times and trials. You learn to rejoice with fellow believers when you see God bring victory and change lives. You get to practice dying to self and putting others first. You grow closer in relationship with your brothers and sisters in Christ and urge each other on to greater things for God's kingdom.

Stephen: I know more about walking with God now than I ever have. God used the two months to expose lies and idols that are very prevalent in my life and fed me with truth so that I could push my relationship with him to a much deeper level. I don't think I would have had the same experience if I had not taken the step to dedicate the summer to him.

John: It was a great experience that changed my faith.