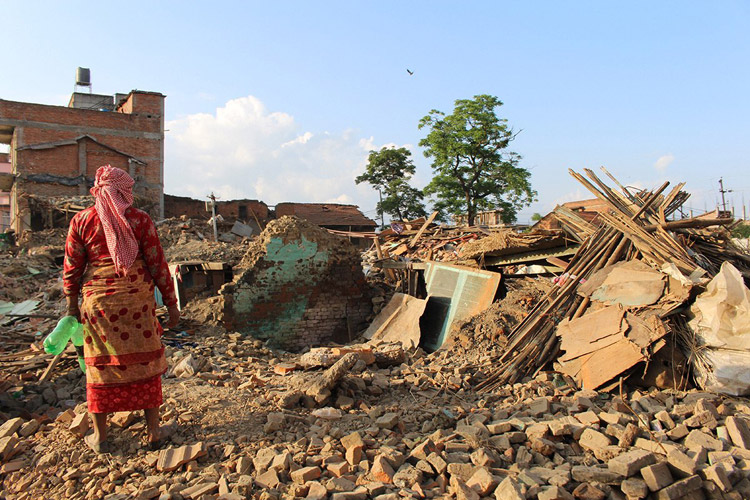 Yesterday, less than three weeks after a 7.8-magnitude earthquake devastated Nepal, a 7.3-magnitude quake hit the country close to Mt. Everest near the Chinese border. While technically an aftershock from the event on April 25, this feels like much more than a mere aftershock. At the time this post was written, at least 37 people have died and more than 1,000 injured in this second quake.
Our brothers and sisters at Mountain View have a small team on the ground, and in a blog post yesterday, they reported that everyone in their team is safe. The team actually ventured north to help in any way they could. A sobering entry and several photos of their day spent helping people impacted by the second quake have been posted to High Plains Harvest's Facebook page. Please be praying for our Mountain View friends and for the people they're ministering to.
We don't know yet if the Children's Home in Godawari was impacted by this second quake, but it is possible they felt something. However, we received somewhat encouraging news from them last week. By God's grace, we were able to connect them with structural engineers already on the ground in Nepal. On May 4, the engineers conducted an assessment of the Children's Home. It is damaged and unsafe but not beyond repair. The damage was limited to non-structural issues, such as infill brick walls. (The photo below shows one of the engineers speaking with Kishor.)
The post from the engineers gives a poignant account of what conditions are like in Nepal right now, and I encourage you to read the whole thing. And with the second earthquake, relief organizations are going to be truly pressed to do the work they need to do. Even though we're thousands of miles away, we can help. Consider donating to Convoy of Hope, Samaritan's Purse or WorldVision. You can also give to our Missions Fund, as our support of the Godawari Children's Home is more important than ever.

UPDATE – May 13, 10:52 a.m. Last night, Pastor Nathan Hrouda talked on the phone with Kishor, the Home's director. From their conversation, it is clear that there is a palpable sense of fear and uncertainty throughout the country. Yet Kishor mentioned multiple times their thankfulness and desire for prayer. He said that we need to be praying and asking God for safety, for hope and for their ability to comfort each other. Everyday they are gathering together to pray, read the Word and encourage each other. Kishor recognized that God is the Lord over all creation, and that these earthquakes are somehow part of His sovereign will. But that it is up to us to respond in faith in that Creator, not fear.
Yesterday, the Children's Home received tarps, headlamps and some money that we (thank you, saints!) had sent with Ashley Denton from Mountain View. With the money, they were able to buy some much-needed tents and medicine. They have received food and other supplies from Samaritan's Purse. As Kishor said, "We are thankful to God for his love and protection for us. We praise our God — at least we have food and shelter. Many Nepalese have not got this opportunity. They are in a painful moment. Please pray continually for all of us."