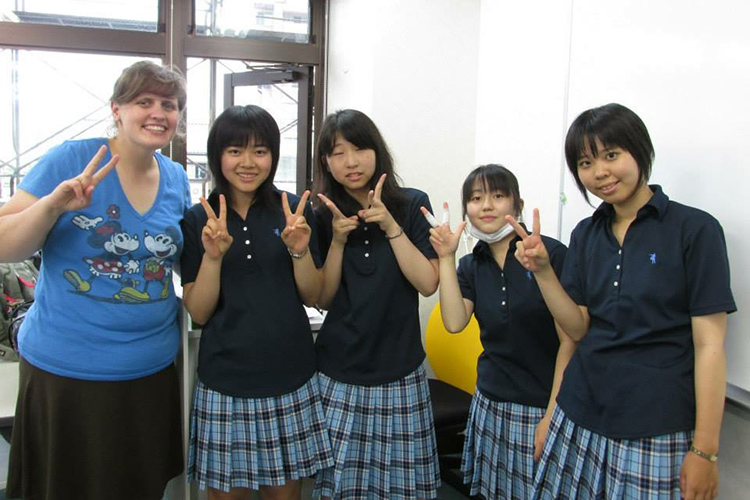 It is estimated that evangelical Christians comprise only .5 to 1 percent of the Japanese population. The spiritual condition of the country is bleak, but God is working in this country — and Summitivew has been blessed with opportunities to contribute to that work.
Our involvement in Japan began in 2012 when a small group of Summitviewers flew over to help with relief work in the wake of the tsunami. God has continued to provide opportunities since then. Over the last four years, Summitview has provided financial support to the Cervenka family. In November of 2012, Torgun Lovely, Lee Vary and Mark and Tiffany Schreiber spent a week with the Cervenkas, scouting out potential job and housing options. (The Schreibers even relocated to Japan before returning to the states because of their daughter Abby's leukemia.)
In the summer of 2013, seven Summitviewers worked with the Cervenkas in Tokyo and Hiroto Sawane (who studied at CSU and attended Summitview during his time in America) in Hanamatsu on a 10-day missions trip. Becky Keith was one of those seven, and on June 21, she goes back to Japan for a one-year missions trip. Becky and I talked about her upcoming trip via email, and this exchange — plus video of her conversation with Pastor Aaron Ritter from Sunday's service — is what follows.

Hi, Becky. Thanks for taking the time to chat. Let's start with your start in Japan. When did you first go to Japan? Why did you go?

Becky: Hey, Trevor! I went to Japan in 2013 on a missions trip with others from Summitview. The trip was more of a reconnaissance mission, where we were looking for ways to be of use in Japan. I wasn't really excited about Japan when I was first asked to go. God continued to grow my heart for the Japanese people the closer the trip got.

You're going to Japan for a year. How did this trip come to fruition?

Becky: I'M GOING TO JAPAN FOR A YEAR!! I leave June 19 and don't have a return date quite yet but probably sometime in July 2017. Last June, my friend Rebecca came to visit and talk to the single women at Summitview about what it meant to be a missionary in Japan. I met Rebecca in Japan on the trip in 2013. She told us that they were praying for another single person to join them. I felt that was my time. I have wanted to go back ever since I went on that trip. This was it. I didn't have a choice. I was going to be that person.

What will your year look like: Who will you be working with, connecting with? What will you be doing? Where will you be living?

Becky: I will be going to a Japanese language school for five days a week. The school will be completely in Japanese and cater to my language level. I will be working with David and Danielle Cervenka, as well as my friend Rebecca, as a missionary and encourager. The main goal of Great Commission Japan is to build disciples who build disciples. So I will continue with that mission and encourage the saints on the ground in Tokyo. I will be living in a town called Koganei not far from the team.

How did your 2013 trip prepare you for this year?

Becky: Going to Japan was a huge eye-opening experience for me. God used that trip to reveal the need for Christ In Japan. People there have never heard the name Jesus, let alone the gospel. I also learned how to say "I'm sorry." Because I said it…a lot.

What has God been doing in your life since 2013? How have you stayed connected with the people in Japan since then?

Becky: From the moment I got on the plane to fly home, I was thinking and dreaming of ways to go back. God wants people in Japan, and for the last three years I knew that I would have to go. I had the amazing privilege to join a Japan small group and we connected with the Cervenkas and Rebecca via Skype.

How can Summitview support you — prayers, finances, otherwise — over the next year?

Becky: Pray, pray, pray. This next year will be difficult for me and the other people of my team emotionally. Not only is it hard to change cultures and countries, but there is a spiritual aspect that most missionaries are attacked while serving in other countries. Please pray that we are protected spiritually, emotionally and physically. If people would like to support financially, let me know. I can be reached by email at becky.keith@gmail.com. And of course encouraging emails or notes throughout the year can go a long way.

What's your favorite part of Japanese culture?

Becky: Let me count the ways! Japan has a beautiful, quiet and old culture. The politeness and courtesy of the Japanese always is incredible. Their ability to put others before themselves is amazingly humbling. I definitely hope to learn that skill from their culture.

Did you watch Pokemon as a kid?

Becky: Lol. No.