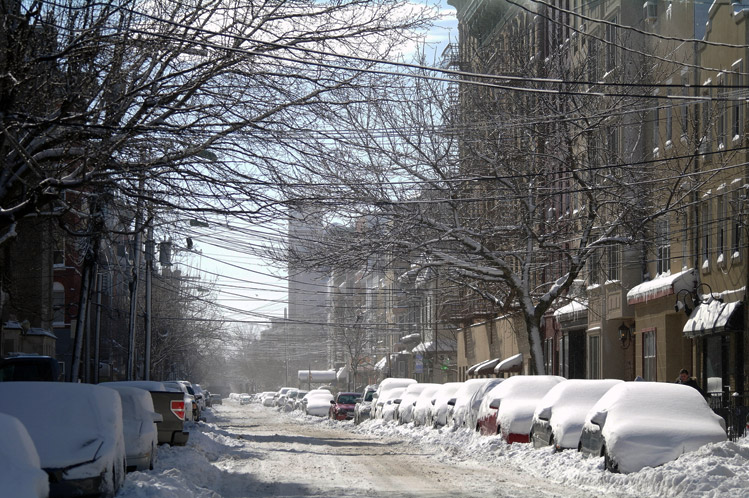 There's a blizzard in the Northeast. A big one (but maybe not quite as big as expected). A nor'eastah. This blizzard, this spoken swirl of snow and wind, even has a name: Juno.
Juno, as an impersonal weather phenomenon, is incapable of creating culture. But it can impact the culture-making activities of the affected populations along the Northeast Coast. If culture is what we make of the world, then folks from New York City to Bangor, Maine are having to make something of a world blanketed by more than two feet of snow and battered by 60 mph wind. Their new cultural artifacts will include variations on "hunkering down," which in this day and age means, among other things, lots of Netflix binging.
But what happens when we can't make anything of a snowbound existence?
Mashable posted an article detailing how "people in storm-bound areas of the Northeast have taken to Craigslist to post ads for companions during the storm. You know, someone to drink beer with, to binge-watch Netflix with, to cuddle and perhaps begin a fleeting romance with (one as lasting as the flurries themselves)."
Screenshots from some of the ads are included in the Mashable article. In one of them, someone asks, "Anybody else alone for the upcoming Blizzard?"
Now, this isn't quite as desperate as "Seeking a friend for the end of the world," but it might as well be. A real human person in Hoboken asked the Internet if anyone else was like him — alone — for the impending snowpocalypse. Replace "blizzard" with anything you like — the Super Bowl, the Fourth of July, the person's birthday — and you start to get to the heart of what the man in Hoboken is asking. The man in Hoboken is trying to make a culture in which he is not isolated and lonely.
There are many things we could say about this, but I can think of at least three things for us to consider in this storm.
First, the irony. Many of us — myself included — lament the shallow, isolationist habits that the Internet can reinforce in the lives of millions of people around the world. Because of Juno, a lonely person in the lonely Internet Age reaches out through the primary vehicle of this loneliness to see if there are other lonely people living near him so as to not be lonely anymore. We might safely assume that someone replied to his Craigslist ad, which might mean that the Internet is not, in fact, a dark hole infested entirely with impersonal avatars. The person in Hoboken at least has a tool to help him shape new cultural possibilities. If you were, say, in Denver during the blizzard of 1913, which buried the city in more than 45 inches of snow, you would have had fewer resources to find a hunkering-down companion — to make a relationally robust culture.
Secondly, while New York City — or Hoboken — may not have cracked the 10-most-lonely-cities list, it is still startling that people in these metropolitan areas are left with no other recourse except Craiglist to find someone to watch a movie or cuddle with. Tim Keller notes that, "Because we are alienated from God, we are also socially alienated from one another. . . . The reason for all the misery — all the effects of the curse — is that we are not reconciled to God." Andy Crouch defines poverty (read: misery) as the inability to create culture. The man in Hoboken is struggling to make anything of this blizzardy world. He is relationally poor; he is socially alienated. This should cause us to mourn and ache and pray for those who find themselves in such a lonely state. This should also prompt us to recall times when we felt all alone in the midst of a real or metaphorical storm. Can we empathize with the man in Hoboken? Or do we instinctively scoff at his decision to use Craigslist to solve his cultural loneliness?
Finally, the importance of neighboring calls to us above Juno's sound and fury (Proverbs 8:1-3). Where are the neighbors of the man in Hoboken? Do they not know one another? Why aren't they watching Netflix or drinking a beer together? And if there are Christians living in close proximity to the man in Hoboken — or any of the other Craigslisters seeking a companion for the cold and snow — why do they not invite him over for dinner or Netflix? The Junos of history highlight Jesus' reasoning for why we should love our neighbors as ourselves (Matthew 22:34-40). Neighboring is culture making at one of the most fundamental levels of human society. The cultural alternative to desperate Craigslist ads is literally right next door. We have the ability to create culture on the actual streets where we live. Think about your neighbors — your immediate neighbors. Are they lonely? Are they seeking a friend for the end of the world (and the next eternal one)? That answer is absolutely yes.
In the midst of Juno, there is good news: Jesus, via his incarnation, "moved" into our "neighborhood." He wants us to be creative and do the same wherever we live (Acts 17:24-27) — regardless of the weather.