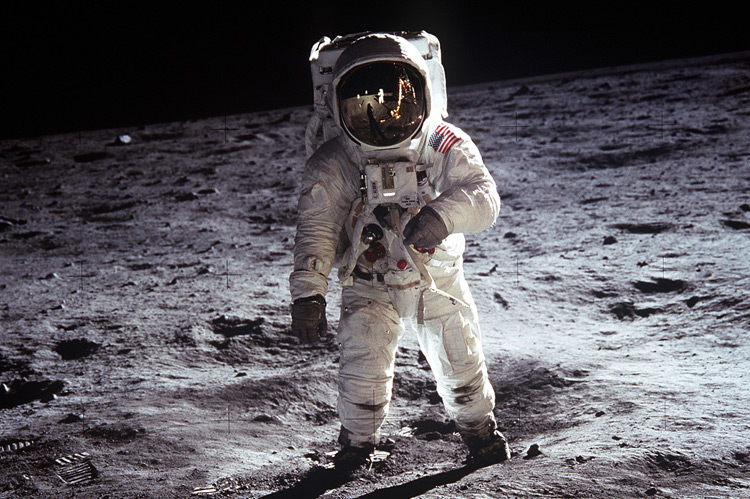 Welcome back to Cultural Imprints. In this collection of posts, we're exploring how cultural artifacts impact our lives and shape our understanding of God and his world. You can read the first installment of this series here.
I was 8-years-old when my family and I stood amid a small crowd in the sultry evening air, outside a small shack near the shores of Lake Okoboji in northwest Iowa. A black and white TV was mounted to the exterior wall of the shack, with every eye riveted on the fuzzy images of Neil Armstrong, as he took his "one small step for man, one giant leap for mankind." Spellbound and breathless, I watched this historic milestone — the pinnacle of human drive and determination, and it largely set the course of my life.
Within the next few days, I set up a mock command module in my cramped bedroom closet. In the darkness of that "space," I repeatedly played a 45 recording of Armstrong's broken, static-laced radio transmissions to Houston control, while gazing through my "ship portal" (a magnifying lens). With vivid imagination, I slowly approached my illuminated Earth globe for re-entry into Earth's thin, blue atmosphere.
Astronauts had become my heroes, space exploration my dream, and technology my functional idol, or god. I drew spaceships, designed spaceships, watched every TV show and movie about spaceships, and the only thing I ever built out of Legos was — you guessed it — SPACESHIPS! Science was my passion, and I longed to discover the secrets of the universe. Little did I know, that the sci-fi of my youth would quickly become the reality of my teens, and that technology would continue to advance with breakneck speed.
Naturally then, after high school, I eagerly enrolled at Iowa State University in Aerospace Engineering. That dream quickly ended, however, as I discovered that Math was not my forte. Still, I went on to take more science classes than probably anyone in the history of that college — from botany to oceanography, geology, zoology, meteorology, astronomy, chemistry and physics. Eventually, I became a high school science teacher, certified in earth science, physical science and biology.
As enamoured as I was with science and technology, over time I came to realize that it was not the comprehensive savior of mankind that my generation had hoped it would be. Deep down, I knew there had to be more to reality than a random, amoral, material universe; I wanted there to be more. A stinging quote by author Marvin Rosenthal pretty well summed up my experience to this point:
Allow it to be said without apology and with biblical justification that man without God is hopelessly lost. He is like a blind man in a dark room looking for a black cat that is not there. Man does not know from whence he came or whither he is headed. Man is totally bankrupt. He possesses in himself absolutely nothing of incorruptible and enduring value. His best scientific, philosophical, and educational achievements have not even identified, let alone explained or resolved, the real issues of life. With all his astounding technological advance, he has not nudged his fellows one inch heavenwards.
In the great ebb and flow of various societal trends, my generation tried technology and found it wanting. And so like many of my friends, who craved transcendence beyond sterile materialism, I threw myself into the exploration of the esoteric. In every bookstore, I always made a beeline to the Religion section. Like a kid in a candy store, I made fascinating forays into the "divine," exploring everything from auras and astral projection, to quantum physics and extraterrestrials. I took classes on meditation, was fascinated by numerology, sacred geometry and prophecy.
Thirsty for truth, however, I quickly discarded most of these. I wanted my life to be anchored to objective reality, not just subjective experiences. I desperately needed to know who I was, where I came from, why I was here and where I was going. And I knew I would never be satisfied (or happy) until I had real, hard answers — because only then could my life have true meaning.
More and more, through the agency of a few Christian friends, my thoughts began turning back toward the God I had learned about in my youth, though never really knew. Could the answer to my quest be as simple as that? As I explored the evidence, along with the unique claims of Jesus, something began to resonate deep inside me, in a way that no other pursuit had ever done. Radical claims such as these:
Everyone who drinks of this water will be thirsty again, but whoever drinks of the water that I will give him will never be thirsty again. The water that I will give him will become in him a spring of water welling up to eternal life. (John 4:13-14)

I am the light of the world. Whoever follows me will not walk in darkness, but will have the light of life. (John 8:12)

I am the way, and the truth, and the life. No one comes to the Father except through me. (John 14:6)

…and you will know the truth, and the truth will set you free. (John 8:32)
My search is now over. Not because the truth has been proven to me in a test tube, but in the crucible of my life. God has proven himself to me in a thousand ways and has satisfied far more than my curiosity. As Saint Augustine once noted, "You have made us for yourself, O Lord, and our heart is restless until it rests in you."
That has been my experience. Jesus has satisfied my restless heart, satisfied my skeptical mind and satisfied my spiritual thirst. But above all, he has satisfied God's just wrath against my sinful soul, and promised me eternal life.