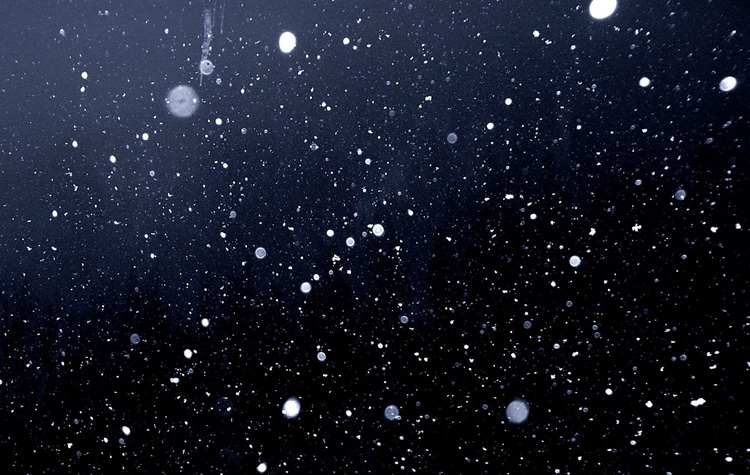 I'm probably the wrong candidate to be writing about the theological implications of snow, because I am so thoroughly biased in snow's favor.
Seriously, I love the stuff. Always have. Growing up in southeast South Dakota helped foster such a love, as my family lived only a couple hours south of where the stories about the "Long Winter" took place in Little House on the Prairie. My brothers and I craved snow as much as our mentor/counselor/sage Calvin from Calvin and Hobbes. We had paper routes, and I can remember more than one morning delivering the Yankton Daily Press & Dakotan in white-out conditions. Building snow forts was a very serious matter, and we perfected the art of sledding down Morgen Hill without continuing into the frozen creek at the bottom of the run.
This love has carried on into my adult years. Just ask my wife how giddy I get when there's snow in the forecast.
But not everyone is fond of sub-zero temps, wind-chill warnings and eight inches of snow on the ground for a week straight. We love Colorado and her mountains and her ski slopes, but not all the time, which is why many of us chose to live at the intersection of the high plains and the foothills. It's the best of both worlds: More than 300 days of sunshine and a comfortable distance from the "real" winter weather of higher altitudes.
In both online and "real life" interactions, I've heard a lot of — how should I put it? — complaining about the latest cold snap and this "crazy winter." It's understandable. Yesterday, Fort Collins tied a record for the coldest high temperature for February 5. We're accustomed to our snowstorms being followed up with 40-degree temps the next day. But this winter has been different. This winter has been killing tauntauns to stay warm.
And as I sat at my desk yesterday, watching a fine flurry fall for most of the afternoon, I wondered about a theology of snow.
If we're supposed to take every thought captive to Christ (2 Corinthians 10:5), does that directive include our thoughts about snow and cold? If the heavens declare the glory of God (Psalm 19:1), what does the snow declare? What do sub-zero temperatures declare? What does the snow have to offer besides world-class snowshoeing and skiing?
A Snowy Word
Snow declares God's interaction with his world (Job 37:6). Snow declares the creation's ability to bring honor to its Creator (Psalm 148:7-8). Snow declares God's power, might and will (Psalm 147:15-17). Snow declares refreshment and new beginnings (Psalm 68:12-15; Proverbs 25:13). Snow declares God's blessing on and care for the earth (Isaiah 55:10). Snow declares the holiness and grace conferred on us by Christ (Psalm 51:6-8; Isaiah 1:18; Revelation 7:14). Snow declares the purity, spotlessness and worthiness of the Ancient of Days, the Son of Man (Daniel 7:9; Revelation 1:14).
I like how John Piper put it:
It is one more way God says, 'Whether hot or cold, high or deep, sharp or blunt, loud or quiet, bright or dark . . . don't toy with me. I am God. I made all these things. They speak of me, just like the warm summer breezes do, and the gentle rains, and the soft moonlit nights, and the lapping of the lakeside, and lilies of the field and the birds of the air.'

There is a word for us in this cold. May the Lord give us skin to feel and ears to hear.
As I'm writing this, Weather.com says it's zero degrees outside. And it's noon. The snow clings to the blue spruces outside my office window. They are all declaring something. But Piper is right. We need to adjust our ears to hear these declarations. Because as N.D. Wilson once noted, we should not expect God to speak only in English.
Next time the snow flies and you're tempted to dream of Colorado in June, stop. Let your skin feel the words and let your ears hear the declarations of a God so big and yet so present that he can communicate something about his nature in a snowflake.